So we have a Japanese restaurant list in Davao City but I'm definitely sure you're interested in Korean Restaurants as well. So which are the best restaurants you can visit to?
Best Korean Restaurants in Davao
So in this article, we will list the 10 best Korean Restaurants in Davao City you can go to. Excited? Well, I know you do. So get ready and have a taste of Korea. And don't miss the number one for we are saving the best in the last. Just say Kamsahamnida to us later.
10. Premier The Samyeopsal
A new Korean restaurant just opened at the end of the year (2020) and people had been talking about this restaurant for their fresh, juicy meats, and mouth-watering dishes. At an average price 458 php~738 php (9.53$ usd~15.36$ USD) you can already have a satisfying unlimited meal here. With complimentary appetizers, and authentic Korean main dishes inclusive in the deal, you'd definitely get what you've paid for.
Location: Aeon Towers, J.P. Laurel Ave, Bajada, Davao City, Davao del Sur

9. Manna Korean Restaurant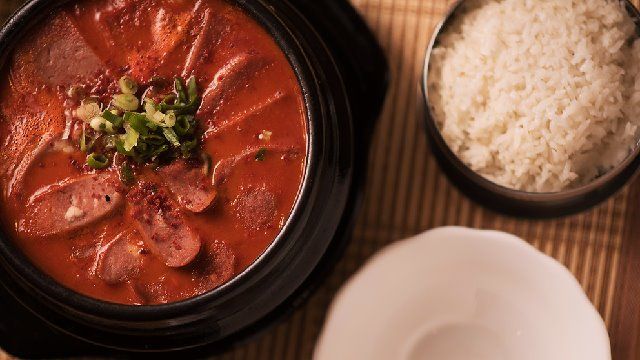 (picture reference: here)
One of the few Korean Restaurants for awhile in Davao City is Manna Korean Restaurant. You would enjoy their side dishes for they are already sumptuous enough and their main dishes are carefully prepared and tasty on their own. You need to try their mandu, tofu, rice cakes, and bibimbap. They are excellent.
Location: SM City Davao Building, Quimpo Blvd, Ecoland, Davao City, 8000 Davao del Sur

8. Na D Ri Korean Restaurant
Big servings, spectacular food, modern and authentic Korean dishes. You can find it here! Nadri Korean Restaurant may not be so known to most but it's definitely serving amazing Korean dishes…and Japanese dishes too. And if you want some samyeopsal on your table, (as we all love) it's also available too. Just try a couple of their dishes and of course their fried chicken and a couple of their fried chicken variants. You'd surely keep coming back for it.
Location: Damosa Gateway, Lanang, Davao City, 8000 Davao del Sur

7. Gui-Gui Grill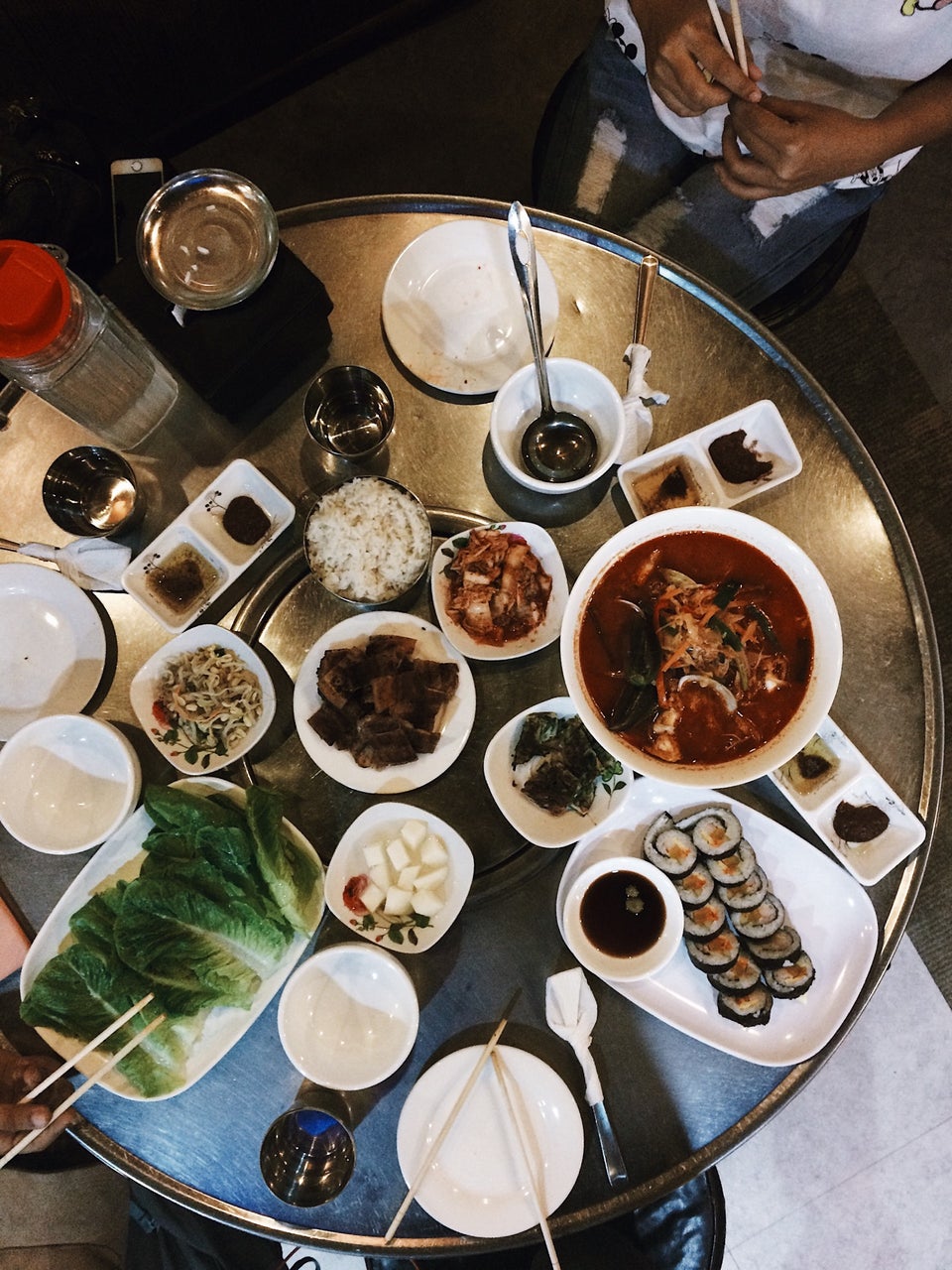 (picture reference: here)
The place is simple, homey and the price is affordable without compromising the taste. Gui-Gui Grill is a go-to for Korean food lovers who like to eat Korean food in a budget. No need to eat to an upscale resto when you actually have this place. Their banchans (side dishes) are also for free compared to most restaurants. Try their samyeopsal, haemul pajeon, kimchi jjigae and Chinese-Korean noodle for these are their bestsellers. And don't forget to try their desserts.
Location: Mabini Commercial Complex Mabini, corner V. Mapa St, Davao City, 8000 Davao del Sur

6. Bulgogi Brothers Davao
(picture reference: here)
If you want a great bulgogi (fire meat) meal and samyeopsal then visit Bulgogi Brothers Davao. The meat servings here are delicious and the servings are also plentiful. They have different servings you can choose from in their menu and everything is fresh and hot served on your table. The restaurant has several loyal customers because of its fairly good authentic Korean dishes and it is worth a try. It is quite pricey here but the food is great.
Location: Fountain Court, SM Lanang Premier, J.P. Laurel Ave, Lanang, Davao City, 8000 Davao del Sur

5. Gangnam Davao Cafe & Restaurant
(picture reference: here)
Another great Korean grill restaurant you need to visit is Gangnam Davao Cafe and Restaurant. In their unlimited grill or samyeopsal you can have your choice which is either pork or chicken. Their serving is always generous as locals claimed to and the price, which is 399php (8.30$ Usd) is just right. Everything is inclusive in the unlimited deal which are the unlimited lettuce, side dishes, soups, rice, and drinks. Plus, they have one ice cream as a dessert.
Location: Abreeza Mall, G/F, J.P. Laurel Ave, Poblacion District, Davao City, 8000 Davao del Sur

4. Itaewon Restaurant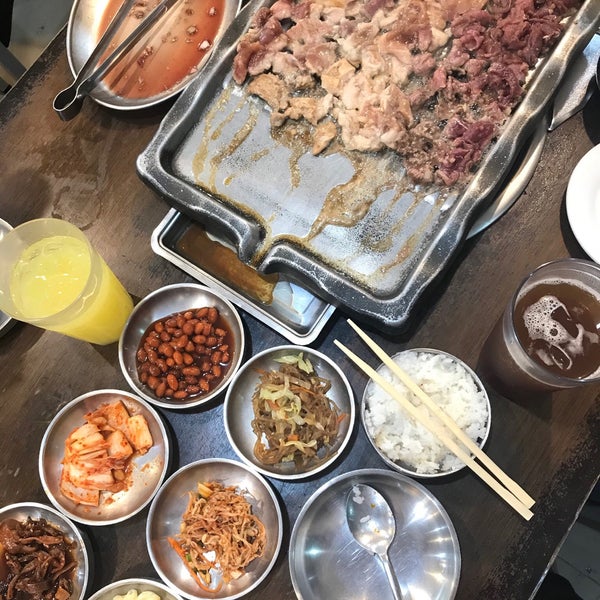 (picture reference: here)
Davaoenos love going for a samyeopsal here and they claimed that it's one of the best Korean Restaurants in Davao City. Delicious barbeque you can cook on your table is freshly served. What's more, is that it's unlimited. Yes, you read it right. For the price of 299php (6.22$ Usd), you can already have it. The staff will serve you what you want at your table unlimitedly and you can either choose if it's pork, chicken, or beef. Plus, unlimited side dishes are served whenever you want to. It's really heaven.
Location: Gen. Douglas MacArthur Hwy, Talomo, Davao City, Davao del Sur

 3. Tong Yang Plus
(picture reference: here)
If you want an upscale Korean Buffet Restaurant then this is just the right place. And not only this is Korean for they serve Japanese and Chinese dishes as well. And yes, it's a buffet where you can get as many as you like. You can have samyeopsal at your table as well and just cook their freshly served pork, chicken and beef meat. With wide selections of Korean, Japanese and Chinese food, you'll never get tired of their food here. Whether you are looking for main dishes, grilled, soups, desserts, side dishes, there are just too many to mention. It is on the pricey side but you'd be eating like a king and go home happy.
Location: SM City Davao Annex, Quimpo Blvd, Talomo, Davao City, 8000 Davao del Sur

2. Davao Korea Town Restaurant
(picture reference: here)
Another authentic and delicious Korean Restaurant you need to check out is Davao Korea Town Restaurant. Appetizers are all for free and then you can choose what main dishes you'd like to order. Their jjampong, haemulpajeon (korean pancake), bulgogi are of the few amazing dishes they have for everything here are just delicious. It is on the quite pricey side but every bite is worth your money.
Location: J.P. Laurel Avenue Bajada, J.P. Laurel Ave, Poblacion District, Davao City, Davao del Sur

1. Seoul Ga Korean Restaurant
(picture reference: here)
Local Korean food lovers had been raving about this restaurant for they say it is the best Korean restaurant in Davao. And they even bring their Korean friends here and they agreed that the food is wonderful. The place is not as fancy as other Korean restos but the taste of their food is the real deal. With great staff and service, fast food, plentiful appetizers, authentic dishes, one couldn't resist going back here. Plus, it is at a reasonable price it's truly a deal-breaker. People had been recommending this restaurant time and again if they're looking for a great Korean Restaurant. Just try here if you want a taste of Seoul.
Location: Exterior Victoria Plaza Compound, J.P. Laurel Avenue Nicasio Torres St, Poblacion District, Davao City

Conclusion
Are you hungry now? So which place do you want to try first or have you tried either one of these Korean Restaurants? Let us know in the comments! And if we missed some Korean Restos, comment it as well. We'd love to hear from you, food lovers.