Who doesn't love pizza? Davaoenos love it and there are several pizza houses in Davao we could name that serve delectable pizza. If you're in Davao now and want some great pizza, don't worry, We Love Davao got you covered.
Pizza Houses Unique In Davao
We will list the 10 best pizza houses you can only find in Davao City. We are excited to introduce you to these pizza houses unique in Davao. Just thank us later or maybe treat us to some pizza.
Hungry? Then don't miss any on the list or you might find your pizza haven.
La Toscana Ristorante Italiano
(picture reference: here)
Arguably one of the best pizzas in town plus, the restaurant itself is absolutely charming. The place has Italian wine selections with which you can partner your pizza with. Also, they serve oven-baked pizza which tastes homemade and authentically, Italian. Surely, you need to add this place to your bucket list for you'll love three things; the place, the wine and the pizza.
Location: Tionko Building, Arellano St, Poblacion District, Davao City, Davao del Sur

Jim Hopper's Philippines
(picture reference: here)
With American favorite dishes on their menu, some claimed that Jim Hopper's Philippines are comparable to famous Western pizza chains. Their pizza servings are plentiful and tasty so you won't be regretting your visit here. This modern restaurant is just new here in Davao City but the word-of-mouth from the locals are being spread rapidly as to how tasty their food is and their pizzas.
Location: 602 Macopa, Talomo, Davao City, Davao del Sur

Zed Pizza
(picture reference: here)
While enjoying KTV and drinks, Zed Pizza serves mouth-watering and generously baked pizza you'd remember even with your booze! Zed Pizza is a local favorite whenever you want both: pizza and booze. On their menu are budget-friendly pizza that wouldn't hurt your pockets so don't forget to check this place out.
Location: A Bonifacio Street, Poblacion District, Davao City, Davao del Sur

Barrio Bistro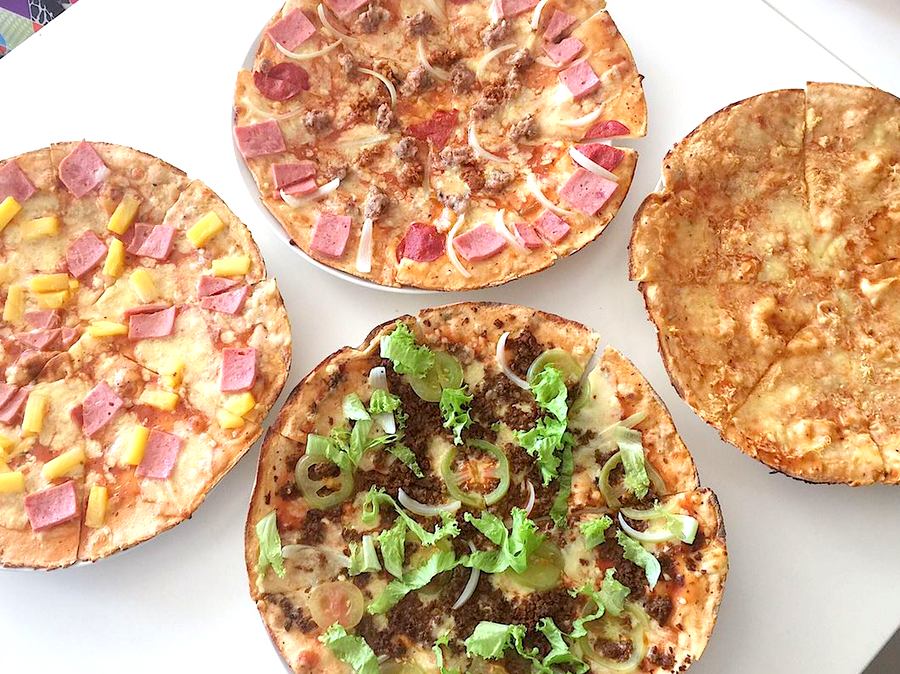 (picture reference: here)
I know you might wonder why Barrio Bistro is on the list for you'd definitely see them all over the Philippines but this list wouldn't be complete for is a home-grown pizza house in Davao City. And who wouldn't resist a buy-one take-one pizza? Barrio Bistro may serve affordable pizzas but they are scrumptious you'd definitely make this in your favorite list. My personal favorite is their three-cheese pizza. It's excellent!
Location: Beechnut Square (Encarnacion Bldg.) Davao del Sur PH, Sta. Ana Ave, Poblacion District, Davao City

Spirale Ristorante
(picture reference: here)
Another place to go to for a traditional oven-baked pizza is Spirale Ristorante and their pizza is just one of their bestsellers for they have a lot of great dishes in the house. With a classy and comfy ambiance and great food, you won't go wrong here. They have an extensive menu to choose from and the pizza is really what will make you coming back for. Try their Tutto Spirale, one of the best pizzas you'll ever have.
Location: IT Building 2, Damosa IT Park Mamay Rd, Lanang, Davao City

 Mia Figlia Pasta
(picture reference: here)
If you're looking for authentic French and Italian cuisine then this is the place to be but right now we are on the journey of delicious pizza that you can only find in Davao City and this is one of the places. Expect your pizza to be classic and authentic and the locals love this resto for numerous reasons such as their pasta but of course, their pizza.
Location: Mabini, corner Mariner St, Poblacion District, Davao City

TwisTea Room Café
(picture reference: here)
This cafe is becoming a fast-favorite to Davaoenos for their surprisingly homey and mouth-watering dishes and one of their sought-out food on the menu is, of course, their pizza! The price on their menu is on average but you'll get your money's worth. And the pizza? People swore it's one of the best pizzas in Davao City. Enjoy the lovely ambiance and great pizza in this cafe.
Location: Corner Coral St and Ruby St, 9-A (Pob, Poblacion District, Davao City

Classio Mobile Wood Fired Oven
(picture reference: here)
Voted the Best Pizza in Davao in 2016, Classio Mobile Wood Fired Oven had been gaining solid patrons for their delectable varieties of pizza. As their name stands, their pizza is cooked in a wood-fired oven and what's amazing in this restaurant is that you can see your pizza baked from scratch you'd even see them tossing the pizza dough in the air.  They have unique pizza flavors you'd be amazed by selections in their menu. And the actual pizza? it's perfect. People had been coming back for it. One of their classics is the Margherita Classio Pizza and for a meaty option, order the Meatzilla Pizza.
Location: 50 Lacson St, Obrero, Davao City

Picobello Ristorante Italiano
(picture reference: here)
The iconic Picobello Ristorante Italiano is one of the best pizzas in town and let me tell you that they've been serving pizzas and authentic Italian dishes in Davao City since the early 2000s! Their restaurant staying in the food industry speaks wonders that their dishes, particularly pizza is a trip you shouldn't miss in Davao City. Also, they have "Happy Pizza Hours" which is a buy-one-get-one every 2 pm-5 pm. Try out their classic Hawaiian Pizza and you'll be amazed at the taste even for a not-pineapple fan.
Location: 6A, Second Floor, The Shoppes, Diversion Road, Talomo, Davao City

Lara Mia Cafe & Bistro
(picture reference: here)
A classy but undeniably delicious pizza, this restaurant should be on the bucket list of pizza lovers. Their sophisticated palates are to die for but their pizza should be the first on your table. Their Quatro Formaggi, Prosciutto, and Arugula are some of their bestsellers you should try plus the place makes you feel like you just traveled to Italy!
Location: Juna Subdivision, University Avenue, corner Talisay St, Matina, Davao City

Conclusion
Do you like this list? Which pizza restaurant would you like to try first? And if in case we missed some unique pizzas only in Davao City, let us know in the comments. We would love to spread the word. We all love pizza, don't we?